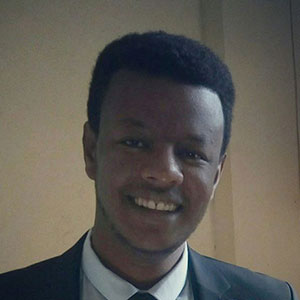 Amanuel Nigatu Regassa
I have B.Sc. degree in Construction Technology and 
Management from Addis Ababa Science and Technology University on June 28, 2017 with distinction. After I graduated, I worked as a project coordinator, office engineer and Junior claim expert positions in two major highway construction projects in Ethiopia. I was very much interested to learn about transportation, urban mobility and traffic safety issues starting from early childhood despite my undergraduate training in construction technology and management. That is the reason I choose to pursue the master of transportation sciences program specializing in transport planning and transport policy at the university of Hasselt, Belgium.
As a master of transportation sciences: transport policy and planning student at university of Hasselt. I have
acquired skill in traffic safety, strategic transport planning, transport modelling and integrated transportation cases. The multidisciplinary coursework I took focused on the following areas strategic transport planning, intelligent solutions in transportations, sustainable transportation policy, transport Infrastructure, behavioral intervention, transport organization, transport modeling and research design. 
During my master's studies I was involved in several transport planning and traffic safety projects such as 
developing an integrated transportation case study project in motorcycle safety strategy Ho Chi Minh city
Vietnam, strategic mobilityplanning of ZUGORAMA(V-ZUG) in Zug Switzerland, Soft mobility concept analysis and design of the Zurich airport flyline, Railway station safety analysis and evaluation of the capacity of the Altstetten train station and public transport interface planning of the municipality of Yverdons-les-Bains and several otheracademic projects.
In addition, with my own initiative in order to broaden my knowledge on traffic safety, sustainable transport planning and urban mobility I take part and successfully completed courses on Transforming urban mobility: Introduction to transport planning for sustainable cities from UCL (University College London), GIZ and Transforming Urban Mobility Initiative (TUMI) and Transport Systems: 
Global Issues and Future Innovations from University of Leeds.
Apart from studies, I have the honor to be a Young Leader for Youth for Road Safety (YOURS) to represent the voices of my country and my peers on road safety and safe mobility. YOURS is a direct follow-up of the United Nations World Youth Assembly for Road Safety in 2007 who have more than 400 young people from over 100 countries gathered to discuss the global road safety crisis and how they people can be part of the solution. Software skills include VectorWorks, QGIS and PTV Vissim. I am fluent in 3 languages including the English language.